Presents
Charlemagne's USS New Jersey
Sire: Westmont's Capt. Curry Morgan
Dam: Ch. Icarian Tender Is Lanai
Whelped: 7/6/2009
 
Jersey Best Opposite Sex Golden Retriever Sweepstakes 2010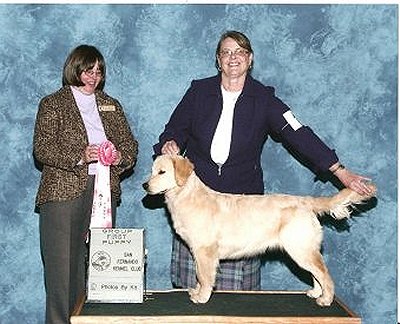 Puppy Sporting Group 1st Place Best Golden Retriever @ 7 months!
Achievements:
Jersey: Our first completely "Home Grown" Winner. Jersey has taken the show ring seriously and is on her way! Second show in Feb of 2010 Best Puppy, Group 1 Sporting Puppy… A dream come true.


Pedigree of "Charlemagne's USS New Jersey"

Parents
GrandParents
GreatGrandParents
SIRE

Westmont's Capt. Curry Morgan     

BISS CH Bravo's Old Spice SDHF OS

 AM/MEX/AMS/WC CH Sheffield-Ducat's Spellbound SDHF, OS
Ginge Ain't Whistling Dixie OD
Bonacres Westmont Sweet Victory
BIS BISS Am/Can CH Rush Hill's Haagen-Dazs CDX JH AX OAJ WCX VCX OS SDHF Can. CD WC
CH Bonacres Four Time Winner

DAM

Ch. Icarian Tender Is Lanai

Am. CH Quailwood Sound of Music OS
BIS BISS Am/Can CH Sunbeam's Cruise Control SDHF OS
Ch Quailwood Limited Edition
Am Ch Chuckanut's National Brasstime OD
BIS BISS Am. CH Sassafras Batterys Not Incld OS SDHF
Am/Can CH Kinshas Flower of the Field Am/Can OD Can SDHF
Gallery for Charlemagne's USS New Jersey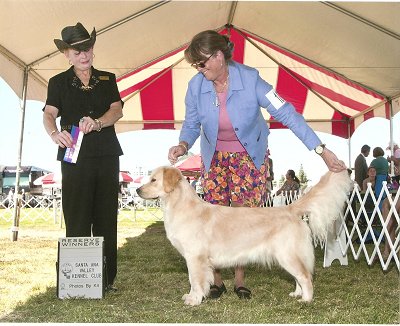 Jersey's 3rd RWB Sept. 2010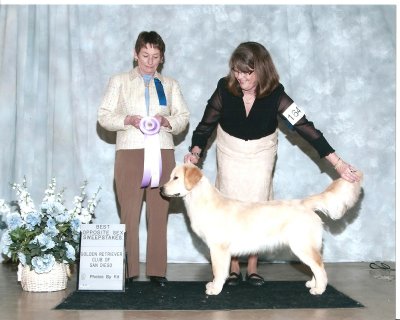 Jersey Best Opposite Sex in Specialty Sweeps
Jersey has really impressed us with her movement and balance. She is a shy pup that needs to grow up and really take her place in the ring as a winner. See her in 2011!!